Project Update: Tortue Hub, Senegal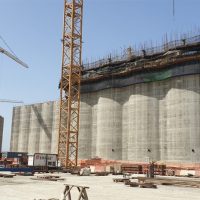 In Dakar, Senegal, the construction of the country's first offshore LNG export terminal is currently underway. Our heavy duty slipform technology and transfer system are used to construct and transport the caissons (16,000 tons each) to the floating dock. At the moment, 4 caisson have been completed (out of a total of 21).
Client: Eiffage Génie Civil + BP
Learn more about the project here!
Arvid är huvudansvarig för webbsidan på Bygging-Uddemann och gör merparten av de inlägg och uppdateringar som rör företagets nyhetsmeddelanden och presentationer av produkter.
Förutom webbsidan är Arvid engagerad i bolagets designavdelning. Han har jobbat på bolaget sedan 2008.
Arvid is primarily responsible for the website at Bygging-Uddemann and makes most of the posts and updates related to the company's news releases and presentations of products.
In addition to the website, Arvid is involved in the company's design department. He has worked at the company since 2008.
Comments are closed